In high school we are taught that "writing means revising." When working with teams, it is critical that the revision process be as simple and streamlined as possible. Here's what Wikipedia says about the process: "In a true collaborative environment, each contributor has an almost equal ability to add, edit, and remove text. The writing process becomes a recursive task, where each change prompts others to make more changes. It is easier to do if the group has a specific end goal in mind, and harder if a goal is absent or vague."
Tools available today make this process straightforward, and allow teams of people to work together to produce truly collaborative documents with ease. Microsoft Word has powerful tracking and authoring tools, as does Apple's Pages program, and Cloud applications such as Google Docs allow easy access to documents from anywhere. In fact both Apple and Microsoft have Cloud versions of their software which allow teams to participate in the writing process in ways unimaginable back in the days of typewriters and mimeograph machines.
Back in the age of ink and quill, when our Founding Fathers were drafting the Declaration of Independence they had a problem, which at the time may have seemed minor enough, but from our perspective seems almost insurmountable. It seems that access to Google Docs was limited at the time, their broadband connection was spotty at best, and they were forced to use some rather primitive collaboration tools when working on this most important document. Thomas Jefferson was, of course, the primary author of the Declaration, but a "Committee of Five" was charged with drafting, revising, and presenting the document to the full Congress. Jefferson presented the committee with a rough draft to which they made various revisions and changes for him to re-draft several times. These changes certainly served to strengthen their final work product, as good teams often find. For instance, Benjamin Franklin is said to have changed Jefferson's original phrase "We hold these truths to be sacred and undeniable" to "We hold these truths to be self-evident."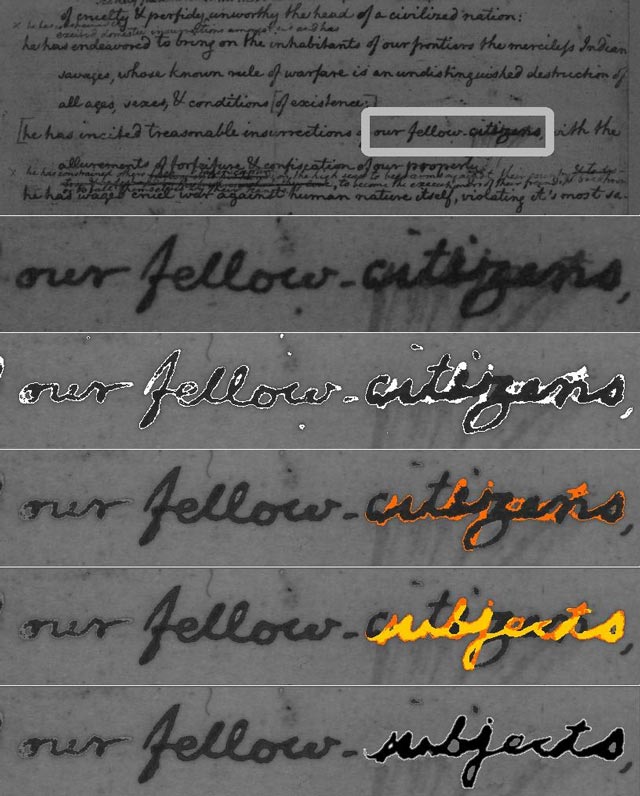 Indeed, the Committee of Five was forced to make do with erasing and carefully inking over whenever a simple word needed to be replaced. In fact, the The New York Times reported last week that a new scientific analysis revealed that in a final polish of the historical document, Thomas Jefferson erased the word "subjects" and penned it over with the more politically correct word "citizens." If only Jefferson had had access to some of the tools  available to your team which, when used properly, will help them to collaborate closely to revise documents, track the changes as they are made, maintain a history (in case you need to go back to an earlier version), and access the work from wherever they are in the world.
1. Google Docs.
3. Apple Pages.
Writeboard is a web-based editor which allows users to share, edit, and publish online documents. RSS subscriptions can be set up to alert team members whenever a document is updated and comments can even be submitted to the document via email. 37Signals makes lots of great software that we subscribe to and use at crowdSPRING, including their flagship product Basecamp, a collaborative project management tool. A free version is available as are modestly priced subscriptions which allow more users and additional features.
5. Zoho Writer.
Zoho Writer is another online editor designed for collaboration and teams. Documents can be created and shared and Zoho has one of the cleanest interfaces of all of these tools and has the unique ability to post work directly to a blog. Import/export of popular formats is supported as are multiple fonts. Zoho also offers collaborative spreadsheets, planners, and wikis.
Photo credit: Library of Congress